ONE OF ONLY 350 COPIES WITH ORIGINAL PHOTOGRAPH
(WESTON, EDWARD). Edward Weston, His Life and Photographs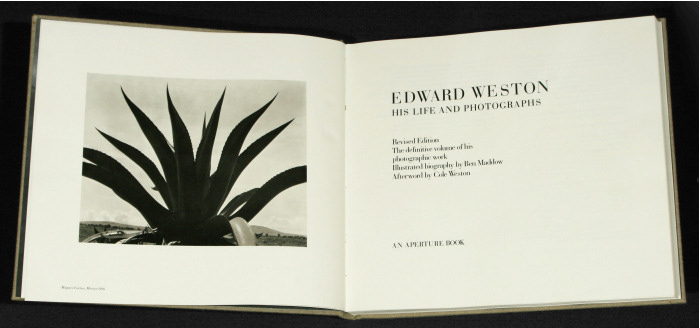 "My brothers Chan, Neil, Brett, and I believe this book does honor to our father's work. It is the greatest collection of photographs by Edward Weston ever published." –Cole Weston

SIGNED LIMITED DELUXE EDITION, ONE OF 350 COPIES SIGNED BY COLE WESTON WITH AN ORIGINAL SIGNED PHOTOGRAPH BY COLE WESTON FROM EDWARD WESTON'S ORIGINAL NEGATIVE.

The quintessential Weston collection, illustrated with 150 reproductions of Weston's photographs spanning his entire career, including his magnificent landscapes, portraits, and still-life work. With an illustrated biography by Ben Maddow and an afterward by Cole Weston. Complete with original silver print "China Cove, Point Lobos (1940)" (240x190mm) by Cole Weston from Edward Weston's negative; with verso signed by Cole Weston and with Edward Weston negative stamp.

(Millerton, New York): Aperture, (1979). Large quarto, original gray linen, original slipcase; original photograph in accompanying presentation folder. A little rubbing to box, otherwise fine. $4000.