SIGNED TWICE BY ANDY WARHOL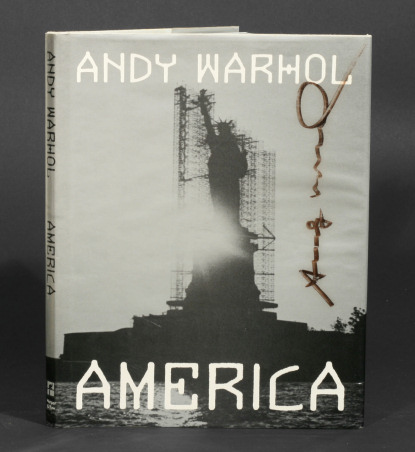 WARHOL, ANDY.
America
"Everybody has their own America,… a fantasy that they think is out there [but it is] pieced… together from scenes in movies and music and lines from books. And you live in your dream America that you've custom-made from art and schmaltz and emotions as much as you live in your real one." –Warhol

FIRST EDITON, the scarce preferred hard-cover issue, SIGNED TWICE BY ANDY WARHOL: signed on the dust jacket and additionally inscribed: "Brooke / Andy Warhol".

Warhol's tribute to America, profusely illustrated with evocative images of Americans from all walks of life, with accompanying commentary by the artist.

New York: Harper and Row, 1985. Octavo, original boards, original dust jacket. Book fine, dust jacket with a hairline scratch on front panel. A beautiful copy. $4500.