"SUCH EXQUISITE, SUCH TRANSCENDENTALLY BEAUTIFUL IMAGES OF ATHLETES" -ROTH 101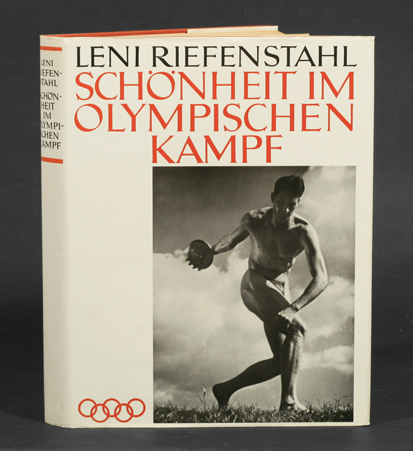 RIEFENSTAHL, LENI.
Schönheit im Olympischen Kampf [Beauty in the Olympic Games]
"What makes these pictures unique is that cameramen have never been allowed to work so close to the athletes at any other Olympics. It was a hard battle to obtain authorization for this from the IOC. Despite permission being granted, there were vehement disputes with the judges on a daily basis. One had to go to war to get the shots." -Riefenstahl
FIRST EDITION, in exceptionally fine dust jacket, of Riefenstahl's classic monument to the athletes of the 1936 Olympics. Profusely illustrated with 273 black-and-white photographs. With signed photograph of Riefenstahl laid-in.
"With the German photographer Leni Riefenstahl, sports imagery rose to new aesthetic heights. Commissioned by Joseph Goebbels, she brought her considerable visual and organizational skills to bear on both the photographing and filming the 1936 Olympic Games. Although the film Olympiad has become an acknowledged classic, her book of photographs, Schönheit im Olympischen Kampf, no less spectacular in its own way, is less known. Sometimes Riefenstahl relied on poses modelled on the antique Greek ideal, faithful to Hitler's belief that modern Teutonic man was 'feeling closer to classical antiquity' than he had 'in possibly a thousand years'. But far more original were her depictions of superbly athletic bodies soaring gracefully through the air and knifing effortlessly through the water. Riefenstahl applied certain devices characteristic of the new German photography- strong diagonals, tight croppings, and bird's-eye and worm's-eye views. No longer was the camera an earthbound witness; it took to the air and the water with the athletes" (William A. Ewing, The Body). Roth 96.
Berlin: Deutschen Verlag, (1937). Quarto, original cloth, original dust jacket. With picture captions in English, German, Spanish, and French. Book very good, dust jacket in superb condition with only a hint of edgewear. Rare in this condition. $3200.