SIGNED BY IRVING PENN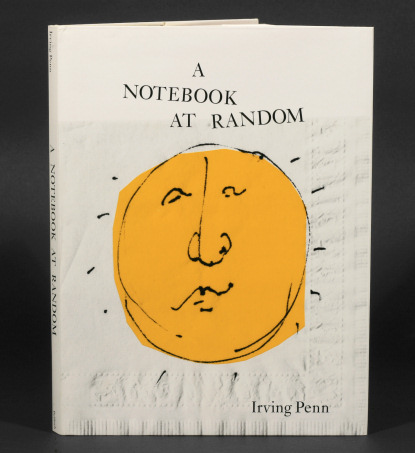 PENN, IRVING.
A Notebook at Random
"Bound together somehow in the paper and ink is the mystical presence of this reticent man. Put together through 'memory and nightmare,' as he says, [A Notebook at Random] also provides a peek into Penn's creative process. Leafing through these images of his daily obsessions and seductions- phone doodles, fragments of platinum test prints, famous fashion studies, the signature portraits of cultural big shots and vanishing tribal peoples, complexly crafted watercolors, and meticulous still lifes- is like seeing ideas wind their way through his mind. It is a tantalizing shuffle, not in the least because of the portrait it reveals of the master photographer himself, now 87, still stealing glimpses of the universe and tenderly tripping up time." -Jay Fielden, Vogue
FIRST EDITION, SIGNED BY IRVING PENN. An unconventional retrospective, illustrated throughout with reproductions of Penn's photographs and drawings.
New York: Bullfinch Press, (2004). Quarto, original black-stamped cloth, original pictorial dust jacket. Fine condition. $650.