KIMURA'S PARIS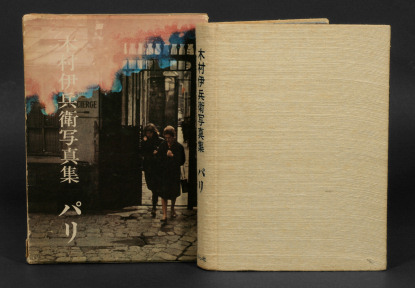 KIMURA, IHEI.
Pari (Paris)
"Paris is notable for two things. Firstly, it has a distinctive colour palette, composed of cool blues, greys, browns and purples. Secondly, there is Kimura's view of the city itself, which teeters between conventional travel photography and something much more original…Kimura's Paris, like Atget's, is a nostalgic one, a city of crumbling textures and decaying structures, of courtyards and back alleys, of autumnal mists and winter gloom….At times Kimura certainly photographs Paris as if the city were in terminal decay rather than, as so many see it, an open-air museum with some artfully distressed surfaces."—Parr/Badger, The Photobook: A History
FIRST EDITION of one the major works by one of the most celebrated Japanese photographers.
Tokyo: Nora Sha, 1974. Quarto, original beige cloth in original photo-illustrated slipcase. With the scarce original booklet. Very minor wear to slipcase; volume fine. $2000.