NEW VISION PHOTOGRAPHY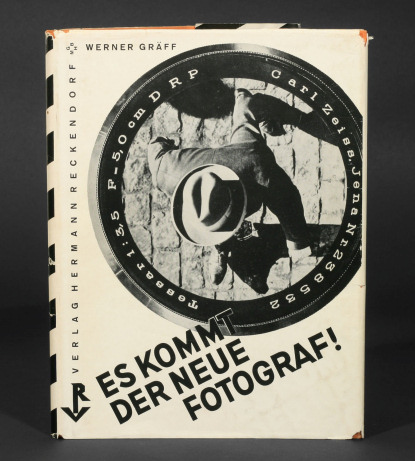 GRÄFF, WERNER.
Es kommt der neue Fotograf [Here Comes the New Photographer!]
FIRST EDITION IN RARE DUST JACKET of one of the cornerstones of New Vision Photography, illustrated with 148 black and white photographs.

Gräff's Es kommt der neue Fotograph was published (along with Roh and Tschichold's Foto-Auge) around the famous Stuttgart "Film und Foto" exhibition of 1929, generally considered the greatest photography exhibition ever held: "not since the great international exhibitions of the 1850s and 1860s had there been such a broad display of the photographic arts, intended not just to show photography but to examine its place in society.

"Importantly, the exhibition attracted leading modernist photographers not just from Europe but from the United States (Edward Weston, for instance) and Russia (El Lissitsky and Rodchenko). It included amateur work, commercial and utilitarian photography, and provided an almost indispensible survey of the New Vision in photography." Both Es kommt der neue Fotograph and Foto-Auge "adopt similar picture-essay formats to run through the various genres and stylistic features on New Vision photography. Werner Gräff's volume, however, has as much of a practical as a theoretical slant. It can be considered as a 'how-to' compendium of the new photography, and is divided into sections, each several pages long, showing either formal strategies like tilting the frame or repeating similar elements, close-ups and so on, or genres such as photograms, montage, advertising and magazine photography" (The Photobook).

In addition to the work of Gräff, Es kommt der neue Fotograph features reproductions of photographs by other leading photographers including Willi Baumeister, Herbert Bayer, Andreas Feininger, Siegfried Giedion, John Heartfield, El Lissitzky, Man Ray, Albert Renger-Patzsch, Hans Richter and others.

Berlin: Hermann Reckendorf, 1929. Octavo (255x190mm) original blue-stamped orange cloth, photo-pictorial dust jacket. Minor soiling and edgewear to dust jacket. RARE. $8000.