SIGNED AND INSCRIBED WITH AN ORIGINAL WATERCOLOR BY BRAQUE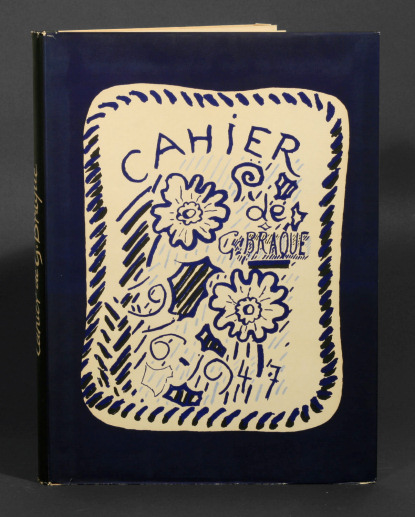 BRAQUE, GEORGES.
Cahier de Braque 1917-1947 [Notebooks]
"In art there is only one thing that matters: what cannot be explained." – Braque, Cahier

LIMITED FIRST EDITION, WITH AN ADDITIONAL ORIGINAL WATERCOLOR BY BRAQUE. The original watercolor on the front blank is of an artist's palette and brushes; signed and inscribed next to the watercolor: "Pour Madame Hant / 1952 / G Braque". One of only 845 copies of this edition.

While recovering from serious wounds incurred while fighting in World War I, Braque began, in 1917, to record his thoughts, philosophies, and developing aesthetics, both in written and visual forms in his "notebooks" – something he would continue to do throughout his life. Their publication in 1948 offered great insight into the influences and development of the artist. Illustrated with 94 black-and-white illustrations by Braque reproduced from his notebooks.

Paris: Maeght, 1948. Folio, original stiff boards with color lithographed dust jacket; linen cover with title and image of painter's palette on front cover. Book fine, minor soiling to linen cover, slight wear to dust jacket. $3900.